Americans are living longer and stronger than ever before. Individuals are leading healthy, active lives well into their 60's, 70's, 80's, and beyond. As this demographic continues to grow, the demand for quality independent and assisted living adult communities is growing as well. Active seniors want to enjoy community, shared meals, activities, and social events with like-minded peers.
Forté Living Apartments
, a 55+ affordable senior living in Rochester, Minnesota is precisely this type of community.



Forté Living 1 in Rochester, the first of an expected six Forté communities being constructed in the Minnesota / South Dakota area, opened its doors in September of 2022. Interior designer Robin
Menage-
Stencil
(RMS Designs
), and Stencil Group
(Construction and Owner )
in Sioux Falls SD, were brought in to design the common spaces. Robin has 20+ years of design experience, focused on the interior and exterior design of residential homes and apartment buildings. Designing for a senior living community was an exciting new challenge for Robin. She knew she needed to find a reputable partner with senior living furniture manufacturing expertise to bring her design ideas to life specifically for this important population.


Robin's design goal was to create a "homey, residential-inspired look", particularly for the dining area. She wanted to find high-quality commercial-grade furniture that wouldn't necessarily
look
like commercial-grade furniture. As she began to do her research,
Shelby Williams
continually showed up at the top of her online search. Robin appreciated the overall sophistication of the products and liked the ability to customize her pieces to create the look and feel she envisioned for her client. She felt confident that Shelby Williams had the experience needed for the contract senior living market. Robin teamed up with SW rep Chris Hall to design a room with safe, strong, durable, and beautiful dining furniture.


Robin's design aesthetic for this project was transitional/contemporary. The dining area within Forté is the heart of the building. Residents enjoy it for daily meals and regular activities such as crafts, card games, parties, and holidays and can even reserve it for private events. Robin wanted to ensure that residents would feel comfortable and want to spend a significant amount of time in the common areas of the building. She was also mindful that the room is frequently reconfigured based on activity/needs, which played a significant part in her product choices.


The dining chairs Robin and Chris chose for this project are
SW 4124 Armless Wood Side Chairs
. Robin opted for armless to make it easy to slide the chairs out if a resident is using a wheelchair or walker. Her goal was for them to be "light enough to easily reconfigure and store", yet be sturdy for the resident's safety and comfort. To maintain continuity, the barstools are from the same 4124 collection. The neutral
fabrics
, Panaz- Linear, Black Chalk, and Momentum, and Bravo II- Slate, give the sleek, sophisticated look of linen & leather while being more durable and cleanable. The
tables
feature ash butcher block table tops paired with a sturdy, square
300 series base
with a tapered wood column. The taper allows for easy mobility and range of movement for wheelchairs while providing a heavy, solid base to ensure residents feel comfortable if they need to lean for stability.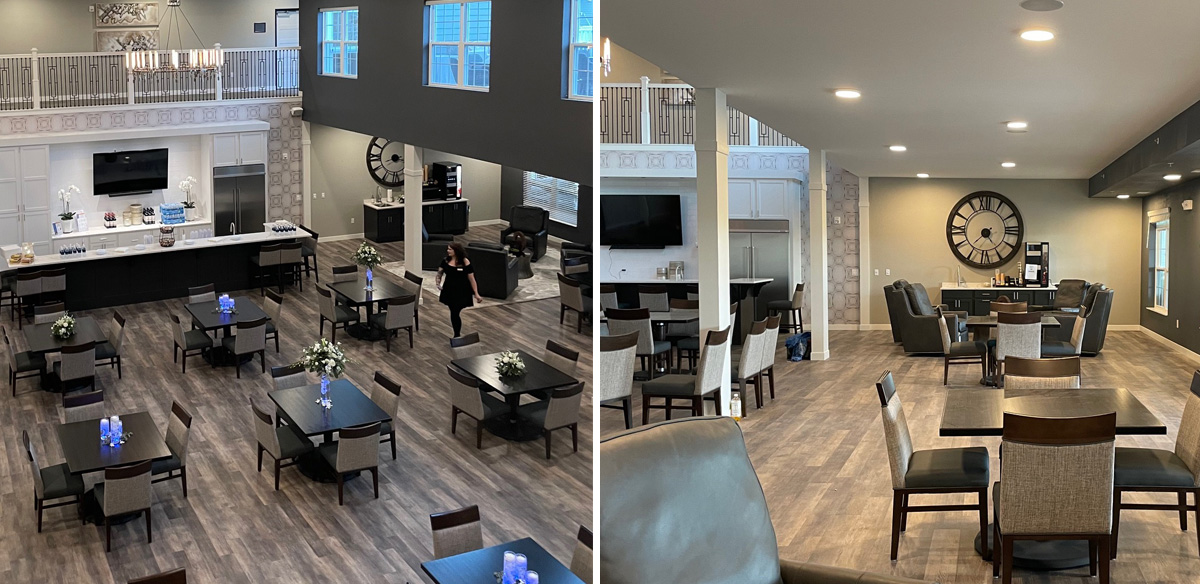 Every last detail of the space was well planned, from the dining space to the bar top area to the comfortable leather chairs along the windows. The residents are enjoying the space and Robin Stencil has moved on to the next Forté senior living community, expected to open summer 2023.