Customize the Perfect Furniture
The Benefits of Designing Custom Furniture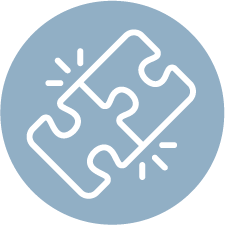 PERFECT FIT
Custom furniture can be made to fit perfectly in any space, no matter how oddly shaped, curved, or small. This is especially important for people with unique needs or creating a space that is ADA compliant.
BRANDED LOOK
Create a unique look. Customized furniture can match your brand's style and space. Select the size, shape, color, fabric, and finishes of your furniture, as well as any special features you need. Logos and branding can be integrated into the look.
DURABILITY
Looking for a residential look but need a more durable solution? Our products are built with high-quality materials and construction, with a limited lifetime warranty on our construction.
QUALITY
Shelby Williams has over 70 years of experience in hospitality. We offer the broadest selection and highest quality custom furniture in the industry, ensuring the design and functionality tailor made for each client's needs.
The Shelby Williams Advantage
With 70 years of manufacturing expertise and proven field tested models, Shelby Williams offers the broadest selection and highest quality custom furniture in the industry. Our centers of excellence located in Tennessee, China, Eastern Europe and Vietnam help us deliver the right value proposition for the project, and give us the ability to merge tables, chairs and booths with harmonizing finishes without multiple upcharges.
Shelby Williams provides an industry leading limited lifetime warranty that guarantees product quality and performance under normal use conditions in the market segments and applications for which the products were designed.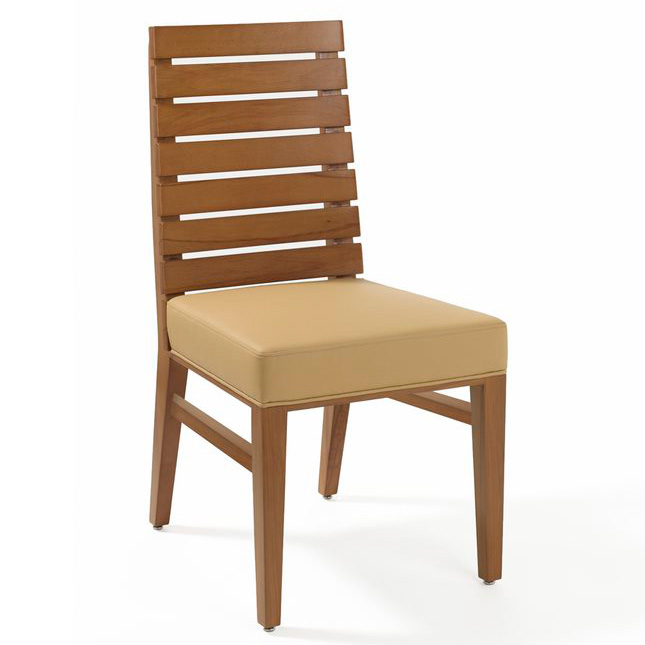 WHAT IS A "CUSTOM" WOOD CHAIR?
One way a chair becomes custom is by taking one of our standard models and making alterations such as dimension changes, adding stretchers, upholstered arm caps or other add-ons, changing the pitch, etc. Custom chairs go beyond fabric and finish to include modifications to the size and shape or a collaboration to create something unique. Shelby Williams is happy to work with a designer to create a completely custom chair design. Contact your Shelby Williams representative to learn more
CUSTOM TABLE TOPS
Custom table tops are a great way to feature your logo and strengthen your brand presence within a space. This can be done by using multiple laminates or silk screening, as shown in the examples you see here. Other types of custom table tops are creating a non-standard shape, using mixed wood species, and creating intricate veneer patterns.
The Process
Whether you are starting with one of our designs and modifying it to meet your style and requirements or working with an original design—we've started with sketches on a napkin where our engineers collaborate on the most effective ways to engineer, source, and manufacture a product—our sales representatives are here to help you get started on your project.
Contact A Representative
Case Studies
CUSTOM METAL CHAIR FOR SENIOR LIVING
This chair was created for a client who was originally looking for a wood chair, but wanted something more durable. When we told them about our Tufgrain line of aluminum faux wood seating they were intrigued and asked if we could help them develop a chair that met the design intent of the space.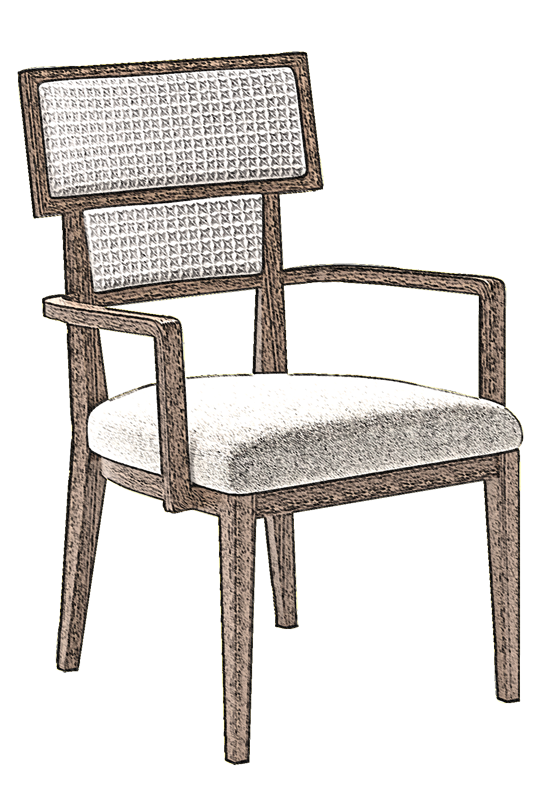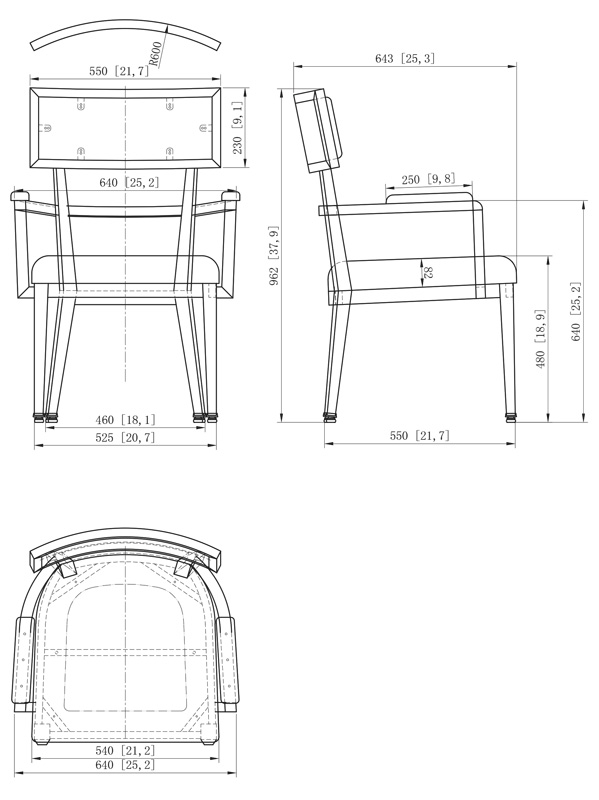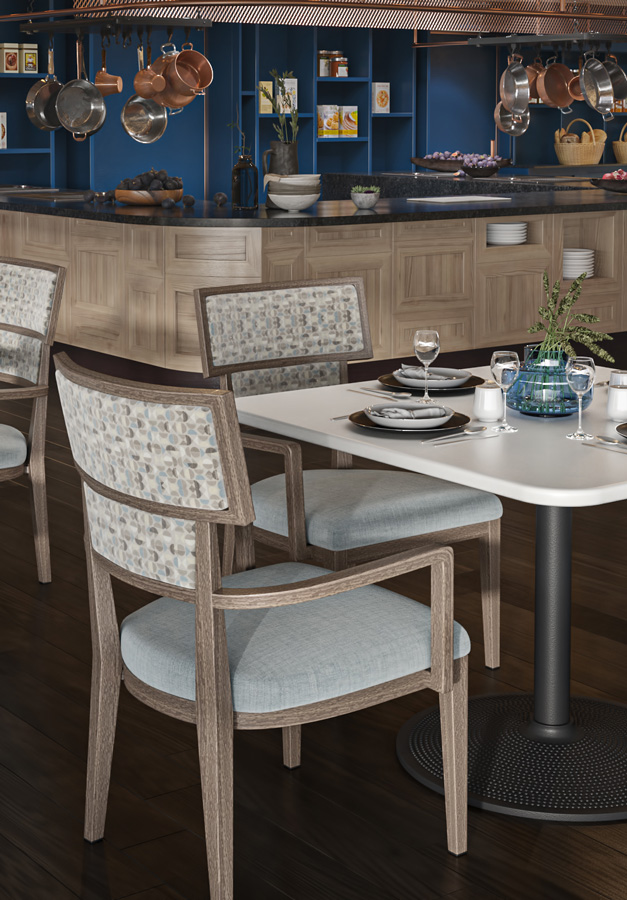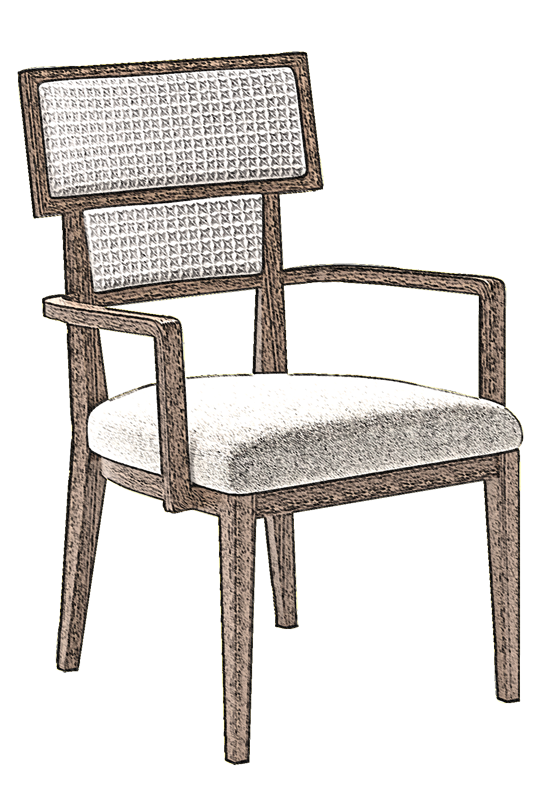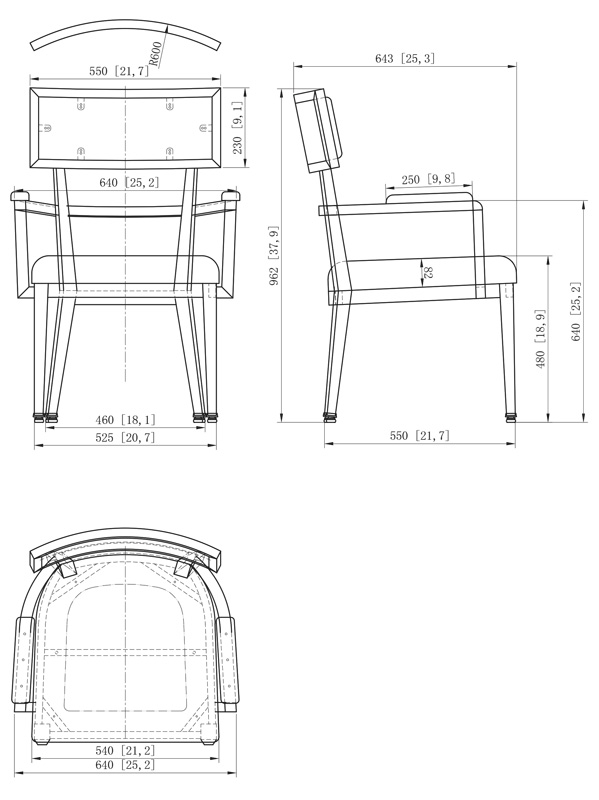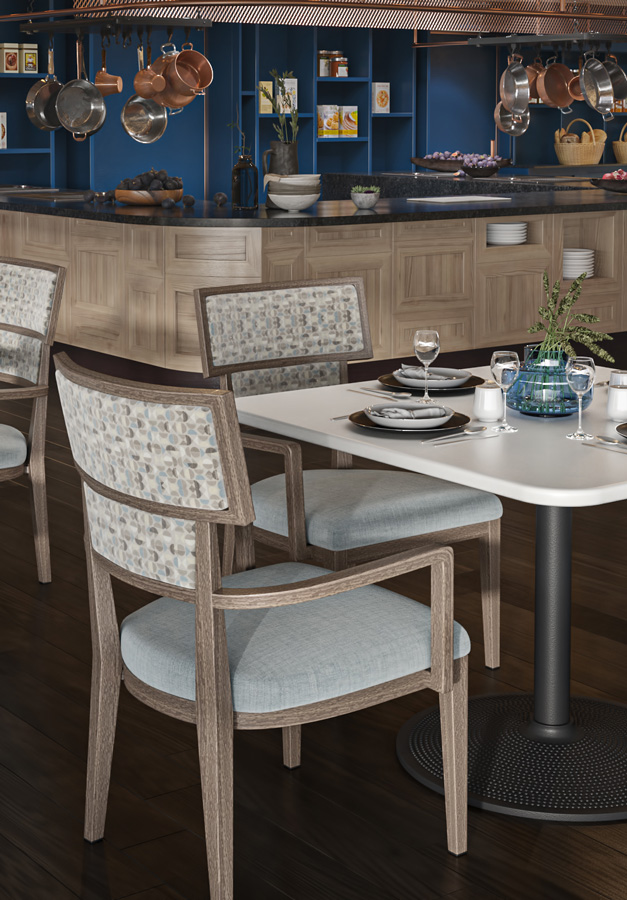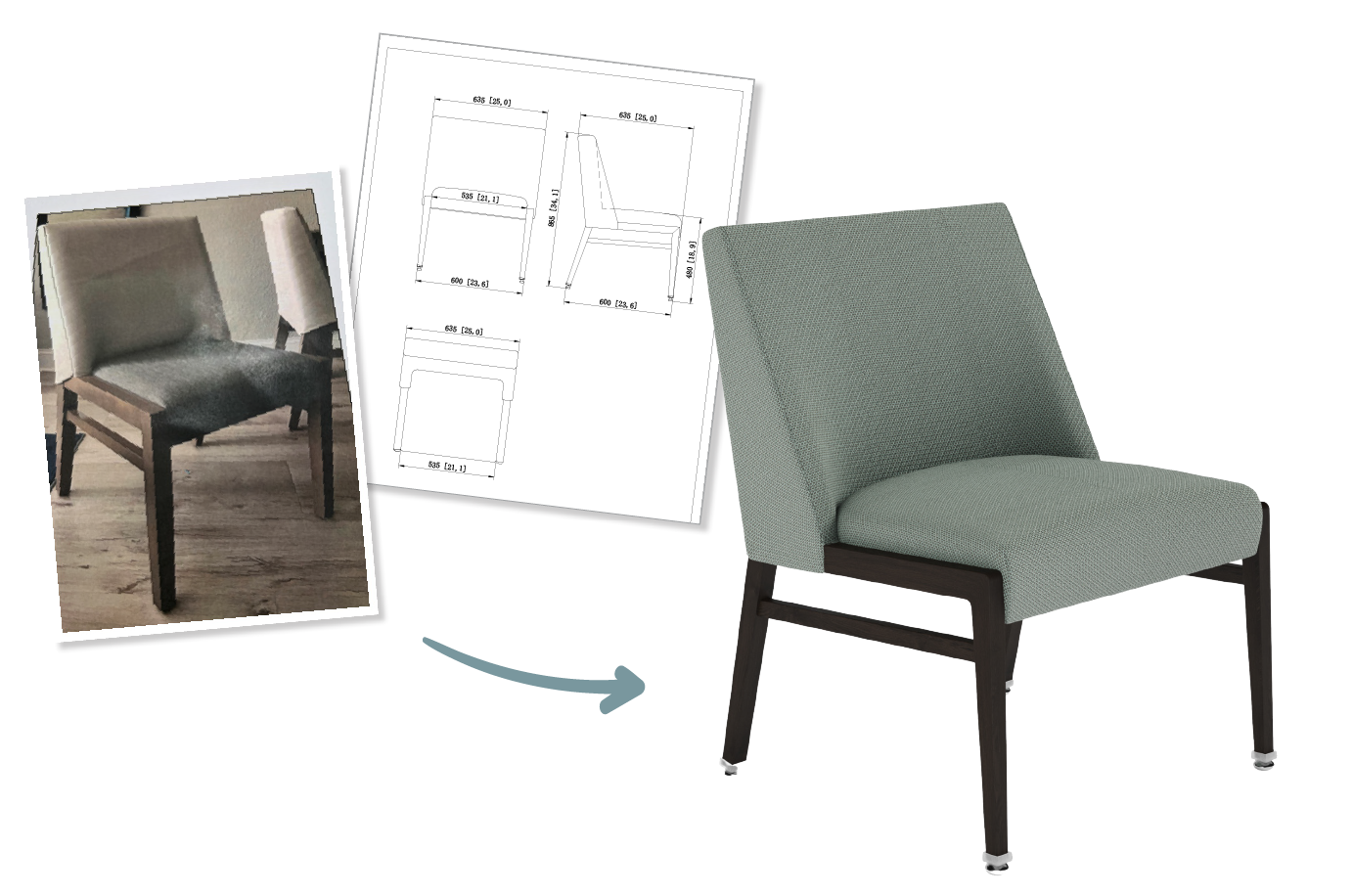 CUSTOM TUFGRAIN CHAIR FOR HOTEL
With this client, we had to match the original design on site, but also needed to modify the specifications to create a more durable solution. Our collection of Shelby Williams Tufgrain Chairs was a logical solution.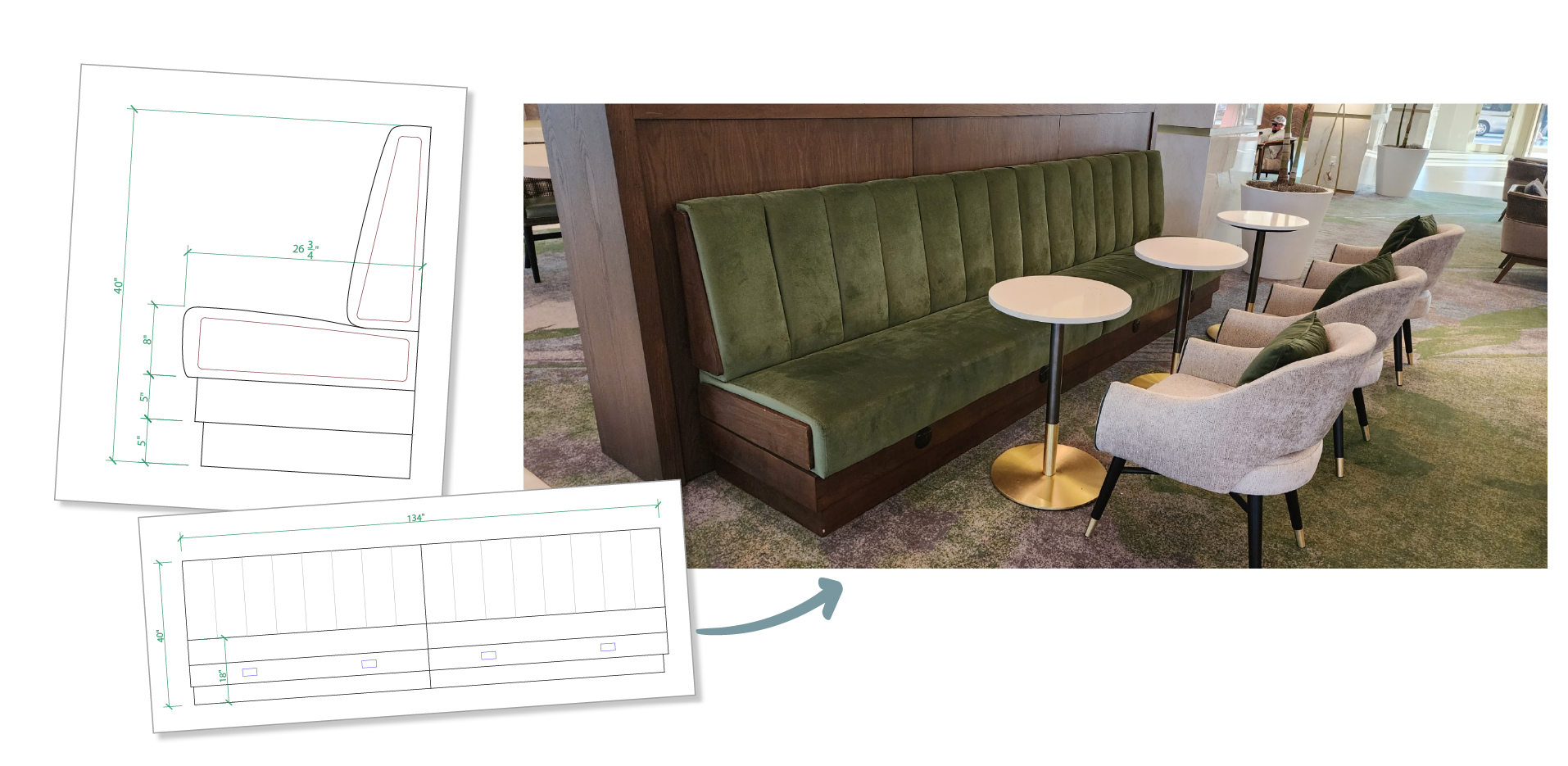 CUSTOM BOOTH FOR HOTEL
With the variety of customization options, we can create a booth that doubles as a room divider or create a curved look to match the architectural elements in the space.