Ovation Communities provide a full continuum of senior living and care options from its three communities, Ovation Jewish Home and Ovation Chai Point in Milwaukee and Ovation Sarah Chudnow in nearby Mequon, Wisconsin. Established in 1906, the non-profit Ovation Communities provide outstanding quality of care; its skilled nursing facilities and apartments both boast Five-Star ratings from the Center for Medicare & Medicaid Services. Ovation Communities is also a national leader in dementia care and one of




the few senior living facilities with its own research department, which operates in partnership with the University of Wisconsin-Milwaukee.

As part of its commitment to providing superior resident care and services, each living facility features outstanding design, comfort and amenities. For consistency, design standards are the same throughout Ovation Communities but the aesthetic is specific to each facility, giving it a unique look and feel.
According to Randy Crosby, chief administrative officer, the process of designing starts with best practices that provide the foundation for building quality interiors: the space must meet resident needs and all applicable codes; it must be aesthetically pleasing to residents and their families; and the budget needs to consider initial costs and strive to minimize lifecycle costs.
Randy recently put those principles into action when renovating each facility's dining room. Upgrades at the various facilities include new lighting, window treatments, artwork, low wood pieces of millwork with plants, tables and chairs.
"We wanted upscale, really beautiful space because the dining area is so important," he said. "At the same time, we needed furniture that not only looked nice but was flexible, durable and lasting. I've purchased seating from Shelby Williams for decades and knew I could count on them to meet our requirements."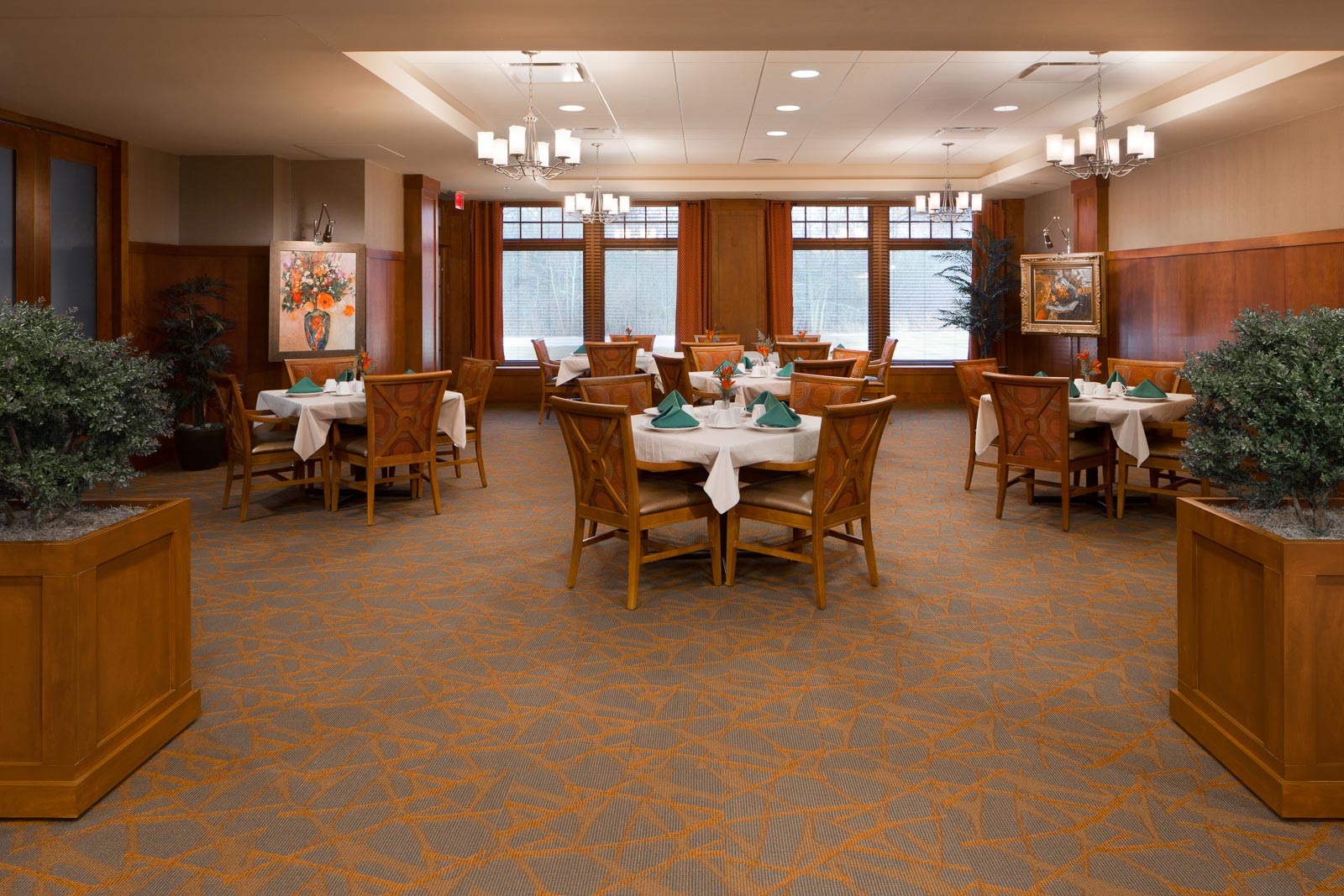 Working with contract furniture dealer, Henricksen, Randy selected a standard wood chair, LG1067, which was customized for Ovation Communities and standardized so seating can easily move from campus to campus. The seating includes upholstery materials that are stylish and easy to clean, a higher back for elderly residents, a strong arm that is part of the front leg to form a single unit, and chair cushions that can withstand years of use. The seating also includes stretchers placed horizontally between the chair's legs for additional support.
"The seating is very practical for our residents but also has a lot of style and beautifully complements the aesthetic of each dining space," Randy said.
He cites the lines of the chair, the millwork detail and unique design of an "X" and a circle on the back of the chair, the wood rather than fabric composition of the top edge of the seat back, and the high-quality lacquer as several of the key features that give the seating a high quality appearance.
"There are a lot of details to consider when specifying a chair for senior living facilities," Randy added. "I know I can always count on Shelby Williams to provide custom seating that meets all of our criteria."